no menu items
CONSOLIDATED FINANCIAL INDICATORS AS OF SEPTEMBER 30, 2023 APPROVED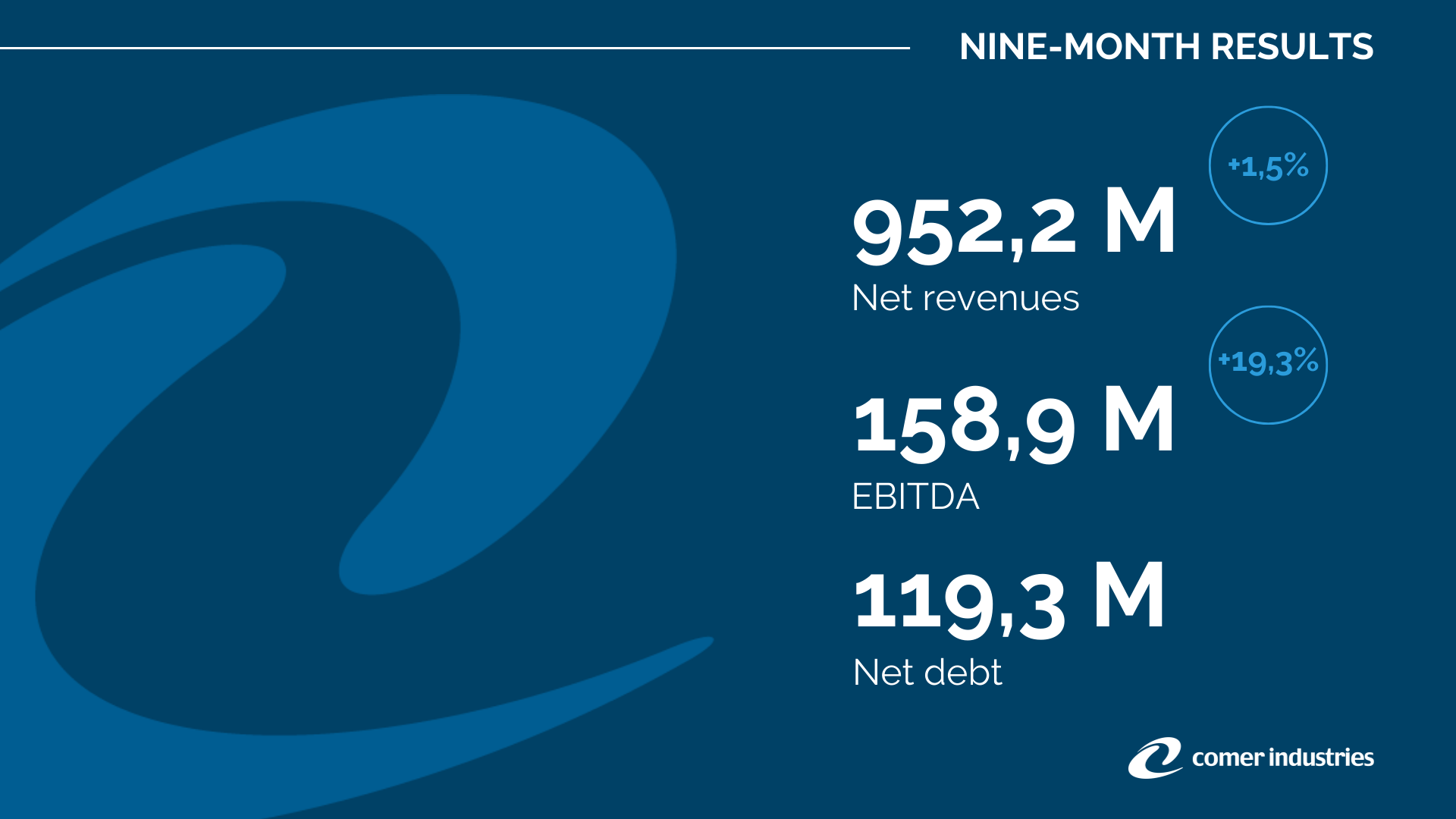 REVENUES AT 952.2 MILLION EUROS FOR COMER INDUSTRIES GROUP IN THE FIRST NINE MONTHS
+19.3% EBITDA VERSUS THE SAME PERIOD OF LAST YEAR AND SALES MARGIN OF 16.7%
NET FINANCIAL DEBT DECREASED BY 29.6 MILLION EUROS FROM DECEMBER 31, 2022 
Today the Board of Directors of Comer Industries approved the Group's financial results for the first nine months of the year. 
Revenues reached 952.2 million with the consolidation of the e-comer division.
Margins were strengthened, with EBITDA growing by 19.3% compared to the first nine months of 2022, reaching 158.9 million euros.
Net financial debt fell sharply. 
Particularly noteworthy is the excellent performance recorded by our Group in the North American market, where a growth of 6% was recorded.
"Although the global macroeconomic scenario is more complex every quarter, the accurate internationalization strategy of the Comer Industries Group allows it to counterbalance the temporary slowdowns of some markets by taking advantage of the more reactive ones" are the first words of the Chairman at the end of the Board of Directors meeting.
"The continuous integration process has allowed us to achieve margins that we will have to consolidate in the years to come. Furthermore, we will continue the investment plan in the electric mobility sectors and on ESG issues", comments Matteo Storchi.